Bah-Humbug Grandich?
As previously noted, the "Don't Worry, Be Happy" crowd (that makes up much of the financial services industry) always goes to great lengths to keep the "bull" alive and well from Thanksgiving through the New Year's Day. I will not be a "Grinch" and instead will wait to the New Year before any real analysis of markets from a private investors prospective (It will be 3 years since hanging up my soothsayer suit).
But for now, I will share my thoughts on the markets I still personally follow in hopes it satisfies the remaining one or two fans I still have out there (family not included as they stopped listening years ago).
Overall comment –Having concluded no one really knows the future and therefore left the "prediction racket" almost 3 years ago, You wouldn't need both your hands to count all the "Talking Heads" on Wall Street who not only predicted a Trump win, but also markets would go in the direction they have. Other than for maybe a couple of hours after it first became apparent Trump would go on to greatly upset Clinton, most markets didn't head where so many just hours before would have sworn they would.
U.S. Stock Market (DJIA 19,152) – I spoke on the stock market just hours after it was conclude Trump won and noted not only did I expect the market to rise through year-end (thanks in part to the "seasonally-favorable" time period), but spoke about a belief hedgefund managers and the like would pile into a rally in order to turn a flat to down year into a nice bonus payday. WAH LAH!
As you soak in the holiday spirit, keep in the back of your mind that every major economic, social and political issue facing us before the election, hasn't changed "one iota". In fact, one could argue (especially if they were "still" a soothsayer), the markets are already pricing in a great deal of success for Trump that may or may not occur.
U.S. Bonds (10yr. T-Bond 2.35%) – A couple of weeks before the election, I noted my belief that bonds were no longer favorable over equities (the lesser of two evils period had ended IMHO). Such has been the case. Despite some weaker economic numbers in recent days, unless the monthly employment number on Friday is dramatically weaker than expected, the FED has no choice but to raise rates in December. The only question is, will it be  the beginning of a sustained move higher? If you got a coin, flip it. That will have as much of a chance of forecasting it right as all the prognosticators will.
U.S. Dollar (Index 101.50) – A Trump win, an almost certain hike in interest rates, and what will become a bigger and bigger factor as we get well into 2017 – the beginning of the end of the European Union as we know it, all point to the U.S. Dollar staying strong for at least the foreseeable future (and that view still requires $2 for me to buy a cup of coffee).
Oil ($46.02) – I said for months now it's stuck in a trading range between $40 and $50 and should stay that way through this seasonally extra happy period at Wall & Broad Streets.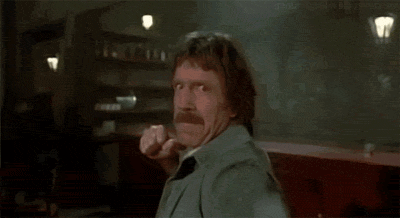 Gold ($1181) – I feel like Chuck Norris has been non-stop punching me in the face me since gold first rally up over $50 on election night. Not only have most of my personal gains for the year in my gold stock and physical gold ownership evaporate, we've now seen all the anti-gold folks that roam the earth with similar manners as actual demonic spirits, return with a vengeance (and we must once again endure most of the mainstream financial media providing them carte-blanche exposure as they did Hillary Clinton).
If I was still in money management and a Market Strategist for some firm, I would be "pounding" the table today for most types of investors (conservative to speculative) to choose gold ownership now at these levels.
The list of bullish fundamental reasons is much, much longer now than the bearish ones, and technically, we're at a point where upside reward seemingly greatly outweighs downside risk.
Because of the recent swoon, year-end tax selling, a near certain interest rate rise, and the time of year, we could still see more softness. However, IMHO, the risk appears to be $100 lower and $250 – $500 higher from here. While timing can be important (think how the poor fella who invented Preparation G feels), I suspect if there's still anyone that invests looking out past a day, week ,or month, and calculates possible returns over years, the reward appears to now greatly outweigh the risk from here (and no one should invest without first consulting a licensed financial adviser).
Base Metals (Copper $2.66, Zinc $1.30) – While my second of just two individual equity holdings has large-scale exposure to two base metals that have been on a tear to the upside (copper and zinc), I think both are overbought and don't look for them to hold these lofty levels for too long. Both are likely to give back 10% to 20% from here IMHO. I hope my company takes advantage of these price levels and sells forward significant future production ASAP!
"Christmas gift suggestions: to your enemy, forgiveness. To an opponent, tolerance. To a friend, your heart. To a customer, service. To all, charity. To every child, a good example. To yourself, respect."~ Oren Arnold